One of the reasons why we started this website and the ValleyFoodTruck twitter feed was because of our obvious love of eating from food trucks, the idea of getting freshly made, affordable food in an outdoor setting where you could congregate with your community and even strangers was a fresh and exciting new concept.
There's never been a time where we stopped talking, tweeting, taking picture of thinking about food, but we're also fascinated by the latest craze of specialty mobile vendors that have joined the scene bringing retail and other diverse services to the streets of Los Angeles.
Since we're firm believers in keeping yourself well informed, well read and keeping your mind fresh, we're big supporters of bookstores (especially local ones, even though many seem to be taken over by the big chains) and our public institutions that provide free services to keep on learning, such as our local libraries in Los Angeles; so to see the doors open to a massive, blue 4-wheeled truck with a collection of gifts and books waiting for us  to shop and spend some money while at the Patchwork Show in Long Beach in June, we were feeling pretty elated.  Something different! Plus the proceeds of your purchases go to a good cause.
During the holiday season of December 2012 the Library Foundation  launched the Library Store on Wheels, a mobile incarnation of the Central Library's beloved and critically-acclaimed store, featuring a unique and carefully-curated collection of literary-inspired gifts. In it's initial launch the mobile store visited 6 different neighborhood library branches, including the world- famous Amoeba Records.
You'll now find the mobile store making it's way to various fundraisers, craft fairs and local food truck events. You can find out about their next stop by following them on Twitter – twitter.com/thelibrarystore.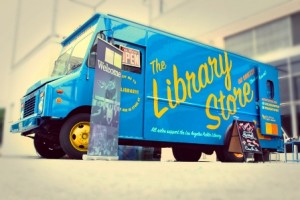 Proceeds from the mobile store benefit the Library Foundation of Los Angeles, resulting in free and critical library programs, resources and services available for millions of adults, children and youth across Los Angeles.
The Library Store opened in 1993, just one year after the Library Foundation was founded in response to the 1986 fires that nearly destroyed the Central Library. The Library Store On Wheels follows the success of last year's branch pop-up stores creating a one-of-a-kind shopping experience made readily available to library lovers all over Los Angeles.
The Library Foundation of Los Angeles supports and enriches the capabilities, resources, and services of the Los Angeles Public Library.
For more information on the Library Store and the Library Foundation of Los Angeles visit: http://www.lfla.org/
[NEWS] We are also pleased to announce that the Library Store will also be visiting Clover Avenue Elementary School's upcoming Food Truck Fundraiser on Thursday July 25, 2013 in Los Angeles, STAY TUNED FOR DETAILS!